Madeleine HARTH-SCHLUMBERGER (1900-1981), known as 'Marie d'Ailleurs'
.
Childhood
Born 28 April 1900, the eldest child of Auguste Harth and Louise Mansbendel. Her father, the son of a family of Lutheran tanners from Sarre-Union in the north of Alsace, had a natural talent for drawing and painting, inherited from his own father. He spent two years in China and made an uneventful career in the textile industry. Her mother, from a Protestant family in Mulhouse, offered neither culture nor tenderness to their three daughters.
Madeleine was
"…a turbulent little girl, full of life and untroubled by the 'No's' which flowed constantly from her mother's lips…"
France lost Alsace to Germany in 1870, so Madeleine spoke French at home and German at school. She read major authors as a teenager, and showed a natural talent for drawing. At the age of 14 she wrote and illustrated at 72-page book as a Christmas present for her little sister. (click here)
Youth
1918 : Alsace was now French once more, and the return to the mother country was an overpowering experience for the young Madeleine. She was a beautiful girl, with black hair and deep blue eyes and she was chosen to represent Alsace in its regional costume at all official ceremonies.
When she passed her baccalauréat, her parents sent her to Paris. She stayed with cousins, entering into the social life of the city, with its museums and spectacles. Offers of marriage, often filtered by the family, did not attract her.
"…We are not on earth to be happy" often insisted her mother .
In 1921, therefore, she entered into an arranged marriage under pressure from the family with Jean Schlumberger. Her parents-in-law were large forest landowners and Jean himself was the director of a flour mill. It was a comfortable life, but Madeleine was nevertheless deeply unhappy, isolated in the countryside with a husband who did not share her tastes in any way. She fulfilled her conventional role, but was desperately unhappy when children failed to follow. Finally she did give birth to a little girl, Nancy, whom she adored and cosseted.
Maturity
Madeleine escaped the matrimonial routine during the winters spent in Strasbourg, where she entered the studio of the painter Edouard Hirth. She would visit her family in Paris and travelled in Tuscany and Umbria, where she discovered fourteenth century art alongside a Catholicism full of beauty and emotion. Here, at last, she had found an environment which suited her sensibility.
1940 : War once again, and the German Occupation. Madeleine fled to the Charente, West of France with her daughter and then returned to Paris, where she remained until 1942, studying with André Lothe, one of the masters of cubism. At that point her husband, who had remained in Alsace (now once more German), insisted that she return home. Together they underwent the bombing, the battles and finally the liberation.
The couple bought an old mill on the Côte d'Azur, near Antibes. It was meant to be a holiday home, but Madeleine made it a magic place, where at last she could express her own personality. Here she drew and painted – oils and watercolours, real and imaginary landscapes: she also read extensively – philosophy, mysticism, history – and she wrote a lot, developing a poetic style. She entertained – friends, artists, scientists and philosophers – establishing a 'salon'.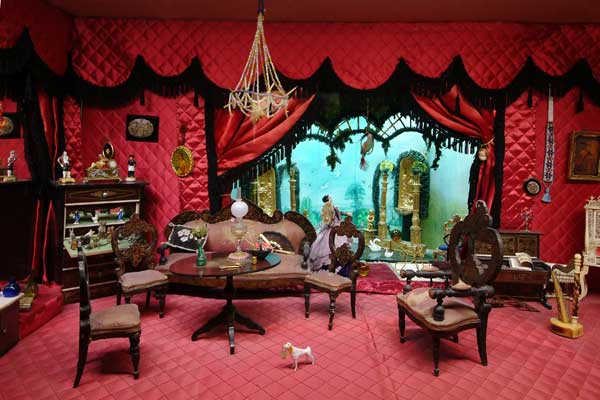 When Madeleine was a child her beloved grandmother had given her some furniture for a doll's house, but her mother had confiscated it, telling her 'You will have it when you are older'. Then it all disappeared. Madeleine finally found it again as part of a bequest. She placed the little chairs in an antique doll's house, adding carpets and curtains, ornaments and characters. The décor was established.
THIS WAS THE BEGINNING OF HER TRUE VOCATION
Other scenes would follow. During her travels or exploring second-hand shops, Madeleine found houses as well as hundreds of other antique objects. People often gave them to her, 'so they won't be lost'. She set up the scenery, painted the sets and extended them with imaginative perspectives. Every object now had its own unique spirit and character, because it had found its place.
.
"There is no more, no less, no near or far, no big or small, no yesterday, no today. Nothing is inanimate. Everything is alive, whispering, inviting, demanding…"
She also created three-dimensional collages, using materials which were of no value in themselves.
"I picked them up from the dust of the wayside – old outworn things that no-one had deigned to glance at.".
She also wrote without ever considering publication.
Four of her manuscripts would be published twenty years after her death (click here).
Final years
Her husband's business was now going through hard times. The house had to be sold. Madeleine moved into a small apartment in Strasbourg. The need to create took hold of her once more. It was all she had to live for.
For some ten years she continued writing, painting and creating décors and her reputation among museums and collectors brought her many visitors. She was now an old lady, white-haired but still beautiful, intelligent, knowledgeable and fascinating.
Her visitors marvelled at the little personal museum of fifty or more houses, churches, shops, landscapes and theatres.
Her art is neither 'naif' nor 'primitive' . Her artistic language has been called 'singular art'
Is it the precursor to a movement or is it simply very personal?
"Le Royaume d'Ailleurs (the Kingdom of Elsewhere) is for those whose hearts have kept and treasured their childhood memories, a land where a thousand years it but a day".